Yesterday finally I got to Thatcher! That's great. I met my friends and that was much fun! I love them! They are so cool :)
This winter vacation was good, actually. I went to Paris, Rome, Canada and Maine. That was good but that's true that I missed everybody XD and now I'm with them! That makes me happy! but tomorrow new semester is coming soon so. but I'm kinda excited about new one. I am taking 2 econ classes, communication class, art class and Jazz class. That will be good.
This morning, I got package from my host mother! She gave a lot of presents wraped neatly. yay XD I love them. I got red cup, the treasure box of Seattle, Chris Moose, candles,ornament, and so on XD I can't wait to come visit my host family this spring vacation. I can't believe myself. I hust come back from winter vacation. But I've already thought about next vacation coming in a month and a half. Crazy but still fun thou!
that would be great!
Today I met my BFF and he gave me a call, and what he said to me made me sad and I got depressed a little bit thou. I will tell what he said. " your English got worse. Whad happened to you?" During winter vacation, I spoke Japanese a lot. I think that's why my English got much worse. I was shocked by him saying that. But I'm sad that it is true. I gotta speak more and more seriously. I dont like my Japanese pronociation so. I'll pay attention to mine when I speak and also when friends speaking as well. I hope it wil ger better soon XD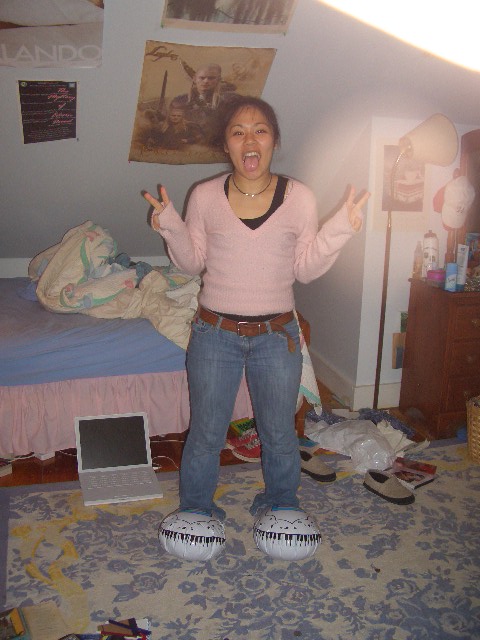 That's me wearing big cute plastic shoes, those are actually Claire, my roommate's yonger sister's. That's awesome!
▲ by y_u_b_o0912 | 2006-01-31 14:01 | Thatcher